In 1986, Margaret Thatcher paid a visit to the Port of Felixstowe.
Her presence provoked a demonstration by the Campaign for Nuclear Disarmament (CND) , which was very active in Felixstowe at that time. Singing as they went, about 200 Felixstowe residents and friends friends gave up their Saturday morning to Tesco's in favour of a march from Allenby Park, down Hamilton Road, to the War Memorial on the Sea Front.
The first atomic bomb was dropped by the United States on the Japanese city of Hiroshima on 6 August 1945. Three days later the second was dropped on Nagasaki. Hundreds of thousands of innocent civilians died and countless more had their lives blighted by the horror, by sickness and by loss. The Atomic Age had begun.
In the 1950s Europe was gripped by a very real fear of nuclear conflict and, building on the work of earlier anti-war movements, CND was launched with a massive public meeting in London in February 1958.
Shortly afterwards at Easter the first Aldermaston March attracted a good deal of attention and the CND symbol appeared everywhere. From the outset people from all sections of society got involved.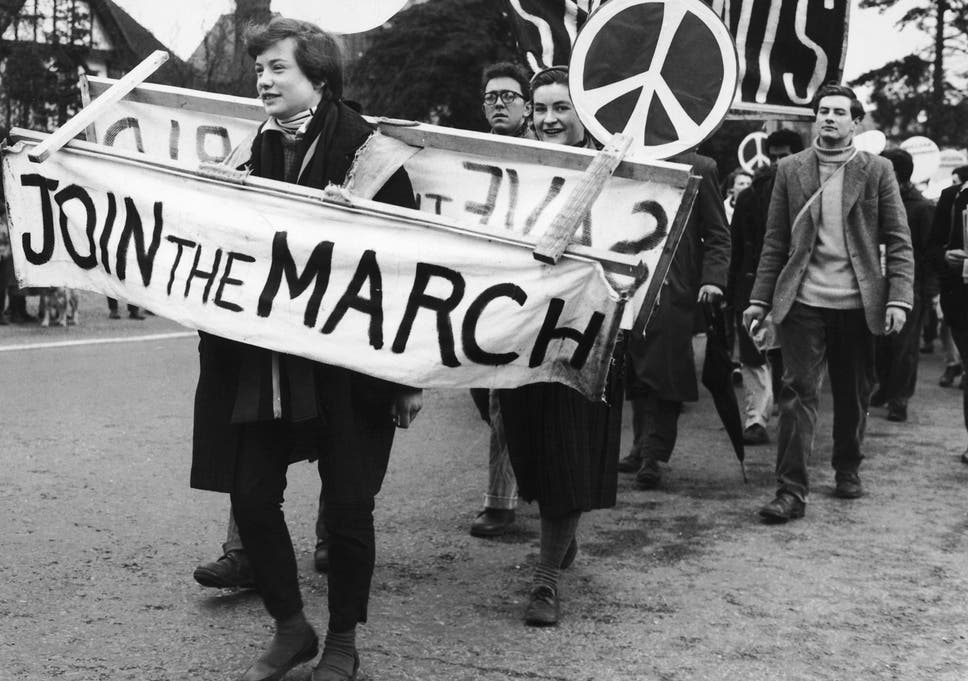 There were scientists, more aware than anyone else of the full extent of the dangers which nuclear weapons represented, along with religious leaders such as Canon John Collins of St Paul's Cathedral, concerned to resist the moral evil which nuclear weapons represented.
The Society of Friends (Quakers) was very supportive, as well as a wide range of academics, journalists, writers, actors and musicians.
Labour Party members and trade unionists were overwhelmingly sympathetic as were people who had been involved in earlier anti-bomb campaigns organised by the British Peace Committee or the Direct Action Committee.
The PM had suffered a rocky start to her premiership with unemployment rates rising and the country in recession. However, by 1983 the situation was beginning to change.
During her visit to Felixstowe she won many admirers by climbing a quayside crane to get a bird's-eye view of the port.
Two months after her visit to Felixstowe Docks, Thatcher called a General Election which lead to the most decisive victory since Labour's victory in 1945.
She held office until 1990 when John Major took over at Number 10.
Luke Smout Felixstowe